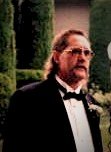 In Memory of
William Thomas "Bill" Heeley
1949 - 2018
Obituary of William Thomas Heeley
HEELEY, William Thomas of Simcoe, It is with sadness that we announce the passing of William Thomas Heeley, Friday, May 11th, 2018, at Norfolk General Hospital. Bill passed away peacefully with his niece Shelley at his side. Bill was predeceased by his parents Matthew & Jane Heeley & his sister RoseMarie Symington. Bill was 68. He is survived by his sister Barbara (Henry) Duffy, brothers Timothy (Barbara) Healey, & James (Jim ) Heeley. Nieces Terri, Shelley (Phil) & Mee Sun Healey (Allan) & great nephews.
In accordance with Bill's wishes, cremation will take place Tues. May 15th, 2018. Donations may be made to the Food Bank in your area, Heart & Stroke Foundation or any charity of your choice. Special thanks to the Staff at Norfolk General Hospital. Arrangements have been entrusted to THOMPSON WATERS FUNERAL HOME, Port Dover (519)583-1530. On-line donations and/or condolences can be made at www.thompsonwatersfuneralhome.ca
"The Parting Glass"
Of all the money that e'er I had
I've spent it in good company
And all the harm that e'er I've done
Alas it was to none but me
And all I've done for want of wit
To memory now I can't recall
So fill to me the parting glass
Good night and joy be with you all

Of all the comrades that e'er I had
They are sorry for my going away
And all the sweethearts that e'er I had
They would wish me one more day to stay
But since it falls unto my lot
That I should rise and you should not
I'll gently rise and I'll softly call
Good night and joy be with you all

DIFFERENT DRUMMER

If a man does not keep pace with his companions, perhaps it is because he hears a different drummer. Let him step to the music which he hears, however measured or far away.
Henry David Thoreau
Everyone who knew Bill has their own thoughts and memories. For me much of the sentiment of the "The Parting Glass" summarizes Bill's life. Those who knew him need only apply their own experiences to complete his story. Since Bill did not want ceremony he asked that he be cremated and be remembered without a funeral. This does not surprise me and his wishes have been met. I ask that you raise a glass to him and remember him in terms of "A Different Drummer" and in particular the first four lines of "The Parting Glass".
Bill certainly lived his life to the music that he heard.
Share Your Memory of
William