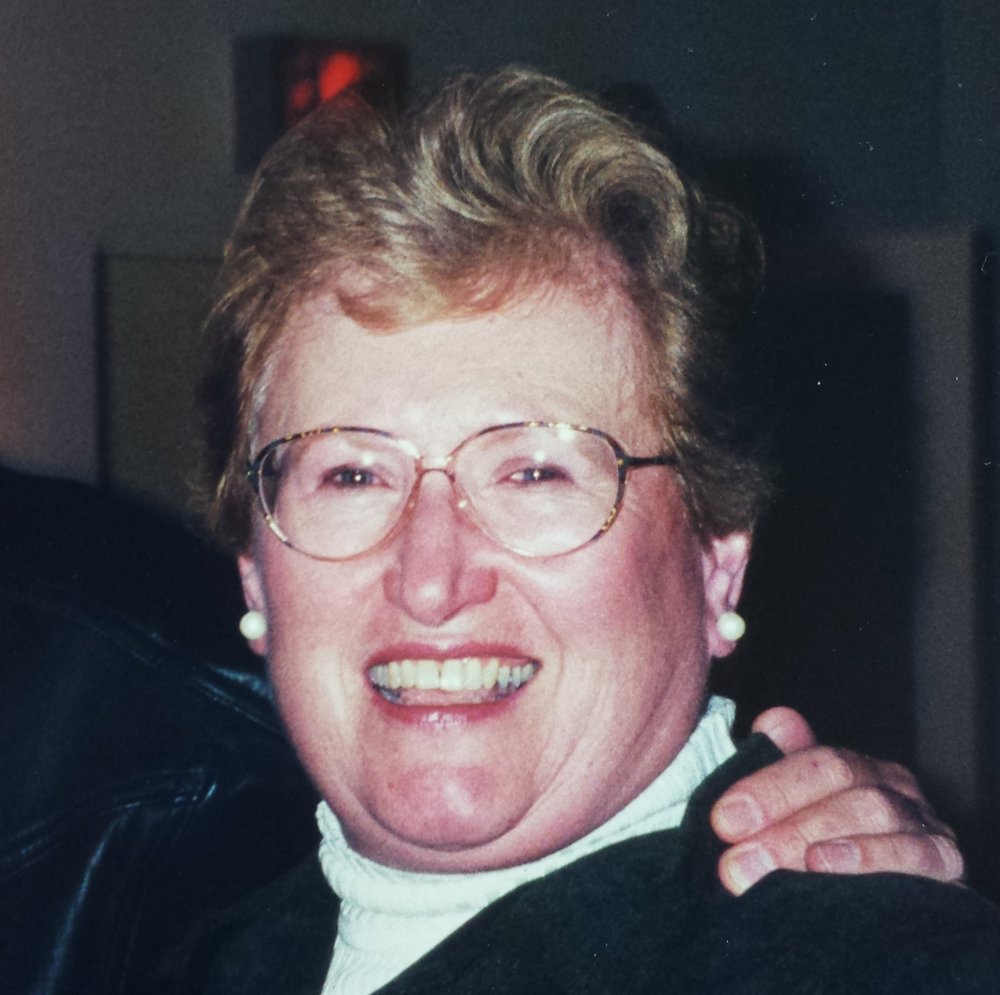 Obituary of Karen Barrett
Karen Barrett (Kolbe) 1939—2019
It is with great sadness that the family of Karen Barrett announces her passing on September 5 2019 in her 80th year, peacefully in her bed in Port Dover, family near her side. Daughter of the late Helen (Redderson) Kolbe and the late Louis Kolbe, granddaughter of the late Captain and Mrs. W.F. Kolbe of Dover, and dear cousin of Bill Kolbe of Berkeley California. Cherished mother to Christopher and Jenny (Steve). Loving Mema to Cassie, GrandmaKaren to Katherine and Sarah, and affectionate aunt to Kim, Scott, Allison, and Andrea. Karen's husband and lifelong partner was Peter Barrett, who passed away in August. Rarely far apart for 75 years, two weeks later and heart-broken, Karen was able to join him once again.
Karen was raised in Port Dover where her mother, one of the first women to graduate from the University of Chicago, founded the local University Women's Club, while Karen's father ran the family business of the Port Dover Fish Company. She grew up in the orchards off Prospect Hill, just down the street from young Peter Barrett; by 1948 he had carved their initials together into a maple tree. Karen completed a degree in Sociology in 1962 at St. Hilda's College, U. Toronto, and life-long St-Hildian girlfriends fondly remember backpacking around cheap-and-dodgy Europe together with her that summer, between city stops to post another letter to Peter, and to check for any telegrams waiting from him, which there always were.
Back in Dover, Karen travelled Norfolk County for the Children's Aid Society, and as a young aid worker became a hero to her family after the local newspaper ran the frontpage story of her life-saving rescue of a man from a burning building. In 1965 Karen and Peter sailed off to London as newlyweds to work for the Canadian High Commission, lunched with the Queen, then returned to Canada for Expo67 and settled in Peterborough, raising their family along the banks of the Otonabee River. Karen helped found the Art Gallery of Peterborough in 1974, later being named Peterborough's Volunteer of the Year. An avid reader and creative writer at heart, Karen also wrote a weekly newspaper column for the Peterborough Examiner, hosted a weekly cable TV show reviewing books and interviewing Canadian authors, and as a home freelance writer contributed many articles and book chapters on local culture and history.
Karen and Peter returned to their hometown of Port Dover in 1999, building a retirement home on Lake Erie where the old Kolbe cottage once stood, soon filled again to the rafters with tall stacks of books of all kinds, teetering from every near-horizontal surface in the house. Karen there also deepened her love of painting; many of her bright watercolours of flowers and sailboats hang in the Hospital in Peterborough, and in private family galleries in Montreal, Sydenham, and Port Dover. Her kind and gentle nature, witty sense of humour, and cheerful outlook will be missed by everyone who knew her.
In keeping with her wishes, cremation has taken place and no funeral service will be held. A celebration-of-lives for both Karen and Peter is planned in Peterborough for Saturday September 28th 1pm, at All Saints' Church and Parish Hall. In lieu of flowers, please consider a donation to an Art Gallery of your choice, or to your local chapter of the Children's Aid Society. A fund has been set up to receive donations with tax receipts at Trent University, where student awards/fellowships are being created in honour of Peter and Karen Barrett. Karen and her family will always be extremely grateful to the wonderful staff of Dover Cliffs Nursing Home. Arrangements have been entrusted to Thompson Waters Funeral Home, and on-line donations/condolences can be made at: www.thompsonwatersfuneralhome.ca
Celebration of Life
All Saints' Church and Parish Hall in Peterborough, Saturday, September, 28, 2019 at 1pm


Share Your Memory of
Karen