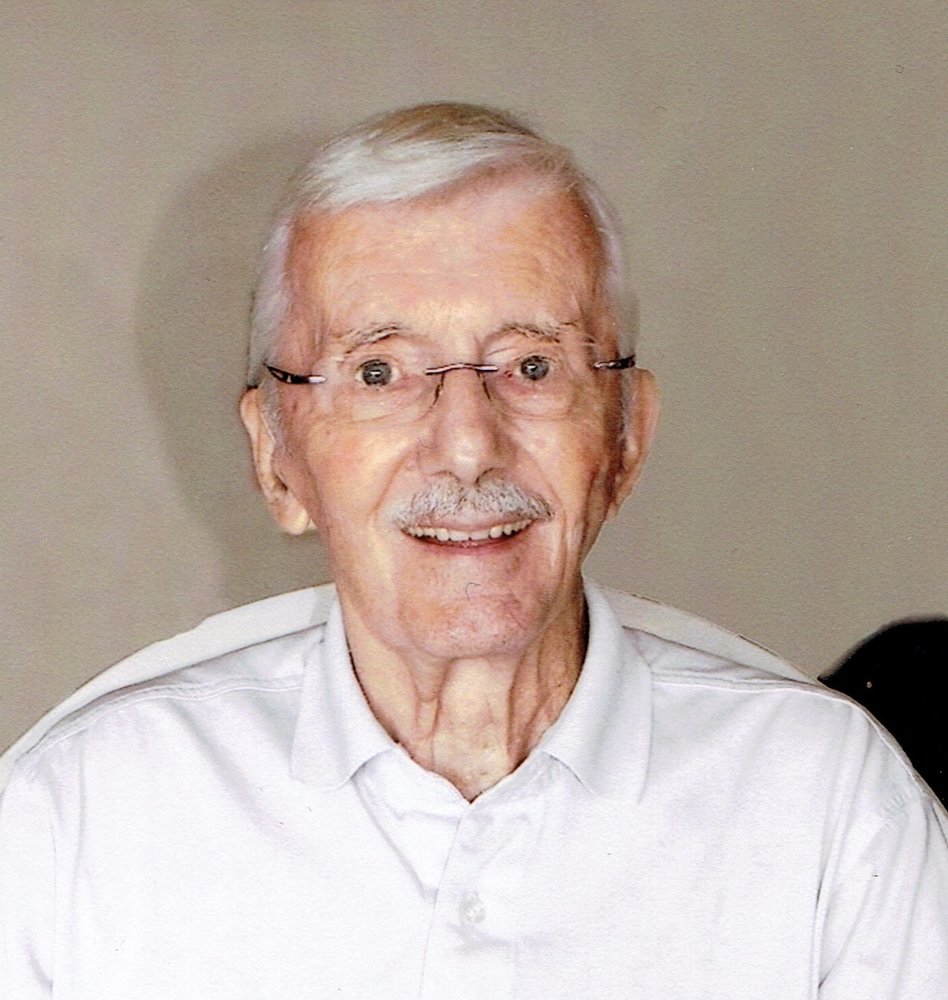 Services
A Memorial will take place at a later date.


Obituary of John Andrew Madill
John Andrew (Andy) Madill of Port Dover died January 9th in his 90th year.
Celebrating a life well lived while battling health challenges with humour and positive thinking, he is mourned by his wife of 64 years, Barbara (née Berst), and children Christine (Jim) Roberts of Kincardine, John (Linda) Madill of South River and Terry (Isabel) Madill of Campbellville. His bad puns and exuberant hand slaps will be missed by grandchildren Alexander (Andréea) Roberts, Andrew (Lucy) Roberts, Patrick (Pranjal) Roberts, Tyler (Danielle) Madill and Cody Madill, Shanna McKeever, Brittany McKeever and Deborah (Tom) Boer, children Alice, Miriam and Clara and by Michael Garcia. Andy loved to hear his grandchildren's news and was hugely proud of their accomplishments. Also known to family and friends as Gump, John Andrew was born August 29, 1931 in Woodstock, Ontario, third child of parents John Andrew (Andy) Madill and Henrietta (Hetty) (née Conlon) originally of Belfast, Ireland. He is predeceased by his parents, brothers Jim and Joe, brother- and sister-in-law Alfred and Jean Berst, sisters-in-law Betty Balatka and Elaine Berst, brothers-in-law Don Elliot, Jim Spencer, Fred Catherwood, Howard Wilson and nephew Jeff Wilson. He is remembered as a thoughtful, loving brother by sisters Elsie (Doug) McBurney and Jean Wilson and by sisters-in-law JoAnn Madill and Marg Madill. A very competitive euchre partner and opponent, brother-in-law John Berst and sister-in-law Margaret Catherwood will miss the friendly rivalry. The many Madill and Berst nieces and nephews will miss their Uncle Gump.
At the age of 16 Andy left school to apprentice as a commercial printer working for Huddleson Barney for 8 years. He also worked a few years trimming and removing trees for his father, a private contractor for Bell Telephone in Woodstock. It was during this time that he first developed a love of driving and acquired an extraordinary familiarity with the highways and byways of Ontario which was put to good use in retirement shuttling cars for the Simcoe Honda dealership.
He was a proud member of the Ontario Provincial Police force for 31 years serving in London, the Pinery Provincial Park, Niagara Falls and Cayuga, retiring in 1988 with the rank of Sergeant. Family dinner conversation often included the recounting of investigations and traffic stops.
Andy volunteered for over 20 years for the Norfolk General Hospital in Simcoe in a variety of roles: fundraising, driving the wheelchair van for hospital and nursing home patients and maintaining gardens. As a young man, Andy was very athletic and played baseball in Woodstock. He also curled for 15 years. He and wife Barb bowled 5 pin together for over 25 years. He was an avid follower of professional sports including football, baseball and particularly hockey and was a faithful, long-suffering Maple Leafs fan. Cycling, canoeing and hiking were also enjoyed for many years.
Following two summers posted to the Pinery Provincial Park, the Madills made a modest start at camping in a tent trailer in 1967. Over the years the trips ranged farther afield and the campers became successively more luxurious. His children and grandchildren have many happy memories and humorous tales of camping adventures with Mom and Dad/Grandma and Grandpa Madill.
Barb and Andy met and made many friends wintering in their camper in Florida over the course of over 4 decades but also enjoyed travel across Canada and the United States, Great Britain and Europe. In accordance with his wishes, cremation has taken place with arrangements entrusted to Thompson Waters Funeral Home, Port Dover (519) 583-1530. Interment at the Port Dover Cemetery and a public memorial will take place at a later time. The family wishes to express their gratitude to the nurses, doctors and staff of Norfolk General Hospital for their support of Andy and Barb in the past weeks. Their empathy and genuine caring were greatly appreciated. Donations as expressions of sympathy may be made to the Norfolk General Hospital Foundation or St. Paul's Presbyterian Church, Simcoe, online donations and/or condolences can be made at www.thompsonwatersfuneralhome.ca.
Andy Madill will be forever remembered by family, friends and neighbours for his twinkling eyes, friendly smile, silver hair and generous spirit.


Share Your Memory of
John